Analisis Serapan Kebisingan Dengan Pemasangan Rock Wool
Abstract
ABSTRAK
Kebisingan adalah merupakan salah satu dampak yang ditimbulkan oleh teknologi modern yang mempunyai pengaruh luas mulai dari gangguan konsentrasi, komunikasi dan kenikmatan kerja sampai pada cacat karena kehilangan daya dengar yang menetap. Dengan demikian jelas bahwa kebisingan tidak hanya berpengaruh pada kualitas kerja tetapi berpengaruh juga pada kesehatan tenaga kerja dan masyarakat sehingga perlu adanya suatu usaha pengendalian yang tepat.
   Dalam melaksanakan penelitian ini penulis melakukan suatu uji coba terhadap pemasangan Rock Wool untuk mengetahui berapa besar koefisien serapan yang dihasilkan dalam usaha pengendalian kebisingan. Ruangan penelitian yang digunakan adalah ruangan yang bisa digunakan di tempat lain sehingga diharapkan sesuai dengan kondisi yang riil.
   Berdasarkan hasil penelitian didapatkan bahwa koefisien serapan RockWool yang mempunyai ketebalan 5 cm adalah 0,8 untuk frekwensi suara 500 Hz, 0,96 untuk frekwensi 1000 Hz, 0,98 untuk frekwensi 2000 Hz dan 0,82 untuk frekwensi 4000 Hz. Sedangkan penurunan intensitas kebisingan yang dihasilkan dengan pelapisan RockWool (tebal 5 cm) terhadap 37,97% dari luas permukaan ruangan yang luasnya 72 m2 adalah 10,16 dBA untuk frekwensi 500 Hz, 10,75 dBA untuk frekwensi 1000 Hz, 10,5 dBA untuk frekwensi 2000 Hz dan 9,58 dBA untuk frekwensi 4000 Hz serta 9,25 dBA untuk suara yang mempunyai campuran berbagai macam frekwensi yang dalam penelitian ini digunakan suatu Portable Fire Pump sebagai sumber suaranya.
            Dengan demikian dapat dikatakan bahwa bahan peredam Rock Wool merupakan bahan peredam yang efektif dalam usaha pengendalian kebisingan, karena mempunyai koefisien serapan yang besarnya mendekati 1 serta dalam pemasangannya cukup mudah.
References
DAFTAR PUSTAKA
Caner Company, 2002, Wellcome to the Caner Co Ltd. Website, www. Caner Ltd. Com / Tasyumen.htm.(internet)
Patrick F. Cunniff, 1977, Environmental Noise Pollution, John Wiley & Sons, New York.(buku)
Russel de Reamer, 1980, Modern Safety and Health Technology, John Willey and Sons, Canada. (buku)
Saint Gobain, 2004, Isover : Rock Wool Insulation, www.Isover Com / acoustic ins / rw ins. htm. (internet)
Siswanto, A, Haryuti, Ir dan Agustin Idayanti T, Dr, 1987, Kebisingan, Depnaker Balai Hiperkes, Surabaya. (buku)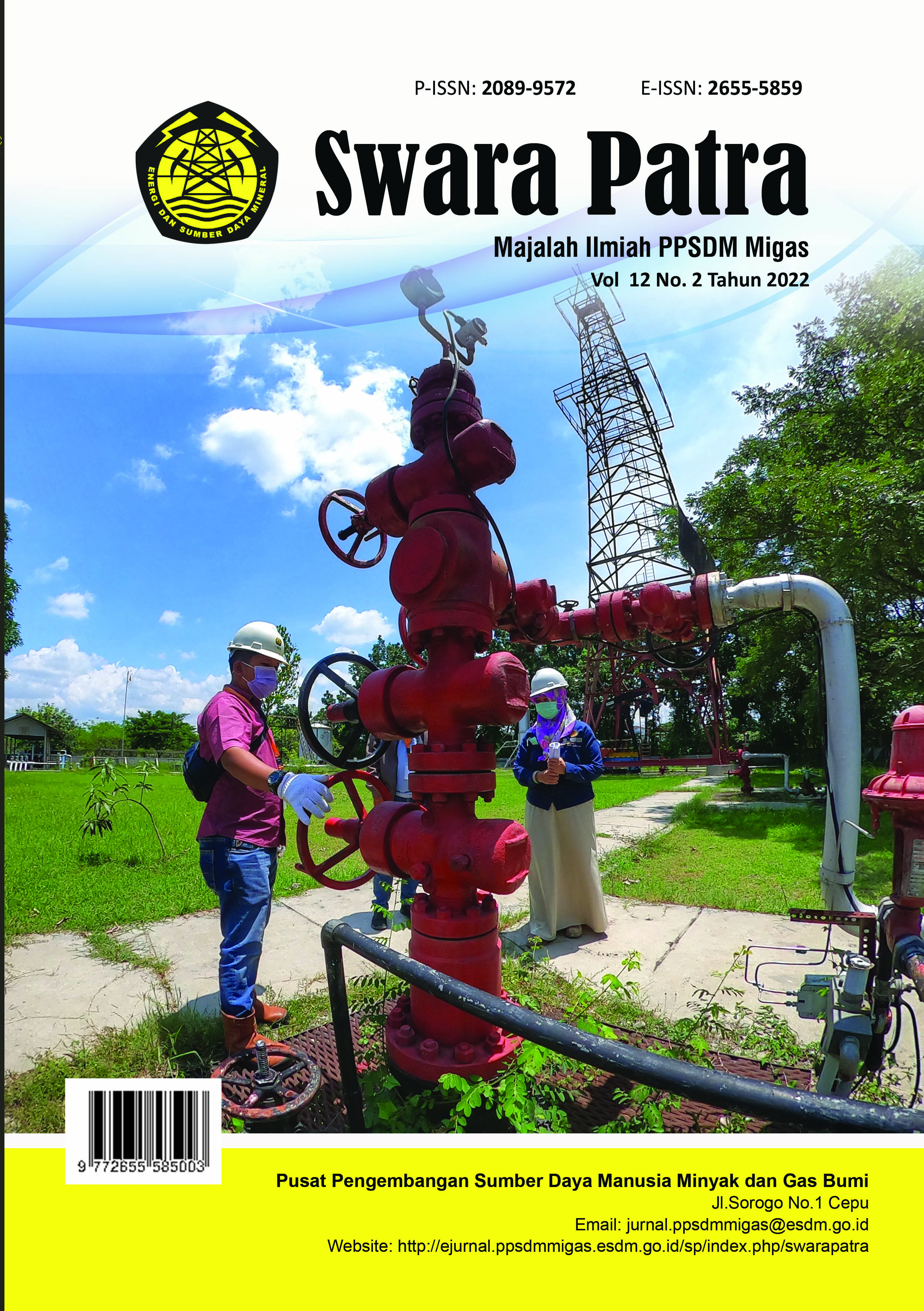 Downloads
How to Cite
Suhardi, R. (2022). Analisis Serapan Kebisingan Dengan Pemasangan Rock Wool. Swara Patra : Majalah Ilmiah PPSDM Migas, 12(2), 22–43. https://doi.org/10.37525/sp/2022-2/299
License
Copyright (c) 2022 R Suhardi
This work is licensed under a Creative Commons Attribution-ShareAlike 4.0 International License.
An author who publishes in the Majalah Ilmiah Swara Patra agrees to the following terms:
Author retains the copyright and grants the journal the right of first publication of the work simultaneously licensed under the Creative Commons Attribution-ShareAlike 4.0 License that allows others to share the work with an acknowledgment of the work's authorship and initial publication in this journal
Author is able to enter into separate, additional contractual arrangements for the non-exclusive distribution of the journal's published version of the work (e.g., post it to an institutional repository or publish it in a book) with the acknowledgment of its initial publication in this journal.
Author is permitted and encouraged to post his/her work online (e.g., in institutional repositories or on their website) prior to and during the submission process, as it can lead to productive exchanges, as well as earlier and greater citation of the published work (See The Effect of Open Access).
Read more about the Creative Commons Attribution-ShareAlike 4.0 Licence here: https://creativecommons.org/licenses/by-sa/4.0/.